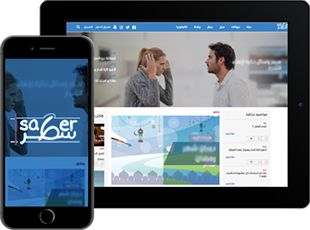 Sa6er is an electronic platform that IS rich with entertaining, educational and cultural subjects that has the main purpose to enrich the Arabic Audience with Everything new and useful .
its content is presented with both video and Images throughout all the social media platforms ,Due to the lack of Arabic content on the Internet which comes in relation to the huge inflation in the number of Internet users from the Arab world,Sa6er has chosen to stand out in using strictly The Arabic language . And even if some Websites may introduce similar subjects, but what makes Sa6er different is presenting their content in a funnier way without boring the reader.
Website link: http://sa6er.com/
What We Did
Complete chain has created a user friendly Platform for Sa6er that's powered by Drupal , It allows the reader a simple access on any device ,easily connecting to any social media platform .
The Homepage has a clear presentation of the content with an easy way to Promote/highlight any desired piece of content thus allowing us to use the cms to its full potential.
What We Accomplished for Sa6er
Customer Support

A user friendly interface

Training Employees on using the System .

Security

Maintenance & On-going Support

Hosting Infrastructure Setup

Search Engine Optimization (SEO)

Responsive Design