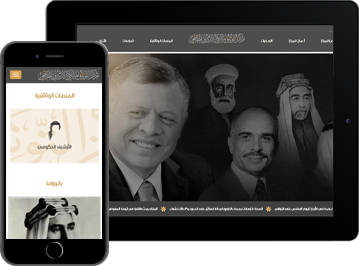 The Royal Documentation Center was established upon approval of its establishment at the Royal Hashemite Court in 2005, under the supervision and follow-up of His Royal Highness Prince Ali bin Naif, Chairman of the Hashemite Centre's Board of Trustees. 
The center aims to collect documents about Jordan, its leadership, organizations, royal family, and manuscripts of all types. As well as maintain, classify, and index the Hashemite documents and records in accordance with scientific principles to facilitate the task of researchers who wish to get benefit of them.
Website: https://www.rhdc.jo/
What We Did
The website provides a user-friendly interface that facilitates navigation to other pages on the site by providing links to prioritize recent articles and pages.   
Our first step was to get a clear understanding of the future website purposes and the target audience they want to attract to the site, and then based on the information that was gathered in the previous phase, the sitemap was eventually created.
During the design phase, the website took shape and all the visual content, such as images, photos, and videos have been created.
In the end, our experienced team tested every single link to make sure that there are no broken ones among them.
 Services Implemented for the website
We accomplished the following services:
•     Research & Analysis
•     Content Support & Strategy
•     Visual Web & Responsive Design
•     Search Engine Optimization (SEO)
•     Web Design Extension & Guideline
•     Social & Multimedia Integration
•     Hosting Infrastructure Setup
•     Maintenance & On-going Support
•     Security Assurance
•     Monitoring