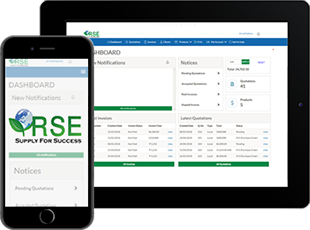 Roots Scientific Establishment is a Saudi based company specialized in Supplying, Calibrating and Servicing Laboratory Equipment as well as Process Instrumentation for a variety of Industries.
As a Sole Distributer for the Saudi Market Place RSE represents several Internationally Known manufacturers; all products are known for High quality, Durability and accuracy. Their Sales and Service team is composed of Sales Specialists and Factory Certified Service Engineers all within a program of continuous training and self-development to reach a higher caliper and render adequate customer support. With a team covering all Saudi regions they supply equipment and instrumentation to Laboratories and Industries in the following disciplines:
Foods and Feeds, Pharmaceutical, Chemical, Paint, Mining, Polymers, Oil and Petrochemical Industries. We also serve certain sectors of Academic, Agriculture and Testing Labs.
Website: http://www.roots.com.sa/
What We Did
Complete chain has created An Online Billing & Accounting Software where we made it possible to add a limitless numbers of products, clients and suppliers and create invoices and purchase orders.
The system was developed specifically to serve RSE needs in particular .its also offers tools to sort, filter and present data, plus security features and customizable financial reporting . RSE was built using Drupal , which allowed us to adapt to any Changes or new Requirements and meet With RSE's Expectations . and keep track of payments and customers with easily generated reports.
We accomplished the following services for RSE:
Customer Support

A user friendly interface

Training Employees on using the System .

Security

Maintenance & On-going Support

Hosting Infrastructure Setup

Search Engine Optimization (SEO)

Responsive Design

Securely access web interface on mobile devices.