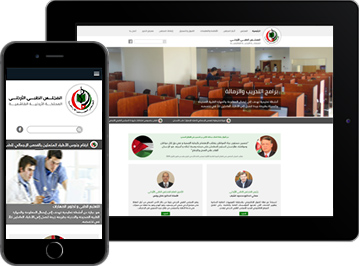 The Jordanian Medical Council institution is dedicated to the training of doctors and rehabilitation of specialists and general practitioners through planning, implementation and the supervision of the scientific programs. Planning and the academic curriculum for various medical specialties is accredited by the Medical Council and can lead to obtain a certificate of the competence Supreme (Jordanian Board) in various medical and dental disciplines.
The Certificate of Specialization (Board) which is issued by the Jordanian Medical Council is the highest vocational certificate in the Kingdom, therefore, The JMC is considered to be a national scientific institution.
Revampped site: http://jmc.gov.jo/
E-service website : https://ejmc.complete-chain.com/

What We Did
Complete chain has presented the Jordanian Medical council with An informative website where it Showcase the services, events and important announcements Presented by the Council. The website is Built Using Drupal 7 And This platform supports rich content management, Flexible and highly scalable, Drupal is capable of publishing a single web site or shares content in multiple languages across many devices.

We've also presented an E-service website, where it acts as a portal designed specifically to serve the needs of the council. E-services delivery will be a key source of innovation For the council, As it will transform the way the public sector presents its services, in many cases replacing traditional channels for doing so with more efficient and effective electronic channels. we used Drupal 7 As a base to help The council in delivering better quality services to Doctors – available 24 hours each day, faster, more convenient and more personalized.
We accomplished the following services for JMC
A user friendly interface

Ensuring that The JMC E-service portal is driven by the use that the doctors can make of .( initiatives to ensure that the concerned parties have the skills to interact with the system)

Training the concerned parties on using the portal .

Different portals for the various departments of the council thus creating a complete system .

Security Assurance

Maintenance & On-going Support

Hosting Infrastructure Setup

Search Engine Optimization (SEO)

Responsive Design

User Experience

Research & Analysis

Monitoring