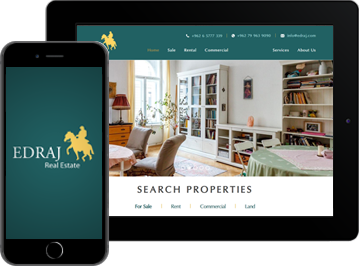 EDRAJ is a fast growing regional investment and real estate services firm focused on delivering a comprehensive range of integrated services to clients. They offer a wide array of integrated and research-based services, leveraging several joint ventures and strategic alliances with major regional and international business partners.
Website: https://www.edraj.com/
What We Did 
Complete Chain was selected as a long-standing company in web development solutions to analyze and serve the company's expectations in the real estate industry.
EDRAJ and Complete Chain determined a framework to meet the needs of each audience member regardless of their types along with the needs of their team. After conducting a research, a new website layout and information architecture were built to clearly organize the company's information to its various targeted audiences. The new architecture was also tailored to attract individuals and clientele to increase conversion rates. The development team built a fully scalable site with SEO enhancements to increase search indexing and visibility to search engines.
 
 Services Implemented for the website
We accomplished the following services:
•     Research & Analysis
•     Content Support & Strategy
•     Visual Web & Responsive Design
•     Search Engine Optimization (SEO)
•     Web Design Extension & Guideline
•     Social & Multimedia Integration
•     Hosting Infrastructure Setup
•     Maintenance & On-going Support
•     Security Assurance
•     Monitoring