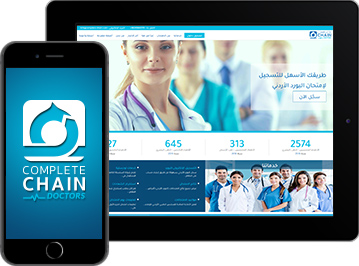 Complete Chain Doctors is our sister company, it's main purpose is helping doctors apply for the Jordanian Board Exam and provide them with valuable content to help them along the way with their journey to success as medical doctors. We have built two sections for Complete Chain Doctors starting with a simple informative website that gives information about the exam, the schedule, what to expect and the step-by-step guide on how to apply for the Jordanian Board Exam online without the need to visit the Jordanian Medical Council (JMC) and another one which is the electronic system workflow that allows Arab doctors to apply online.
Website link: https://www.complete-chain.com/
What We Did
Complete chain has created a user friendly Platform for the Doctors website that's powered by Drupal 8 CMS which as of this time the latest Drupal and will constantly be updated for the latest firmware, starting with mobile first design for the homepage to be responsive on all devices, we included a sticky menu to be visible all through the website and large Call to action buttons to help visitors get to their goals faster. We created a very appealing design and included the needed steps to complete registration and other information like what documents are needed for the application process and general instructions. We didn't stop, we also integrated the Drupal platform with analytical tools that show quantitative value of our visitors, we also included FAQ section and suggested questions section and worked on the website SEO to be visible on search engines and rank better with time for keywords like "Jordanian Board".
What We Accomplished for Complete Chain Doctors
Responsive Design

Compatible with all browsers and devices

Secure and continuously updated system

Maintenance & On-going Support

Hosting Infrastructure Setup

Search Engine Optimization (SEO)

Content Creation and Population