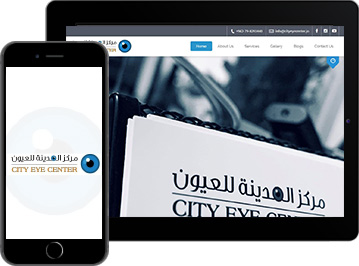 City Eye Center is specialized in providing comprehensive diagnostic and surgical ophthalmology procedures, whether performing complex surgeries procedures or a routine eye exam.
It was founded in August 2014, with a vision to provide excellent eye-care in affordable prices and works with a multidisciplinary team of specialists who collaborate to provide the care your eyes need.
Website: https://www.cityeyecenter.jo/
What we did
Complete Chain was selected as a long-standing company in web development solutions to analyze and serve the center expectations in medical services.
Our team developed the project by evaluating their business needs, identifying the solutions and implementing a goal-oriented strategy. 
The website simplifies finding useful information about the services on the homepage,and it also connects the patients with their doctors through social media platforms like Facebook, Instagram, and YouTube.
 Services Implemented for City Eye Center
We accomplished the following services for City Eye Center:
•     Research & Analysis
•     Content Support & Strategy
•     Visual Web & Responsive Design
•     Search Engine Optimization (SEO)
•     Web Design Extension & Guideline
•     Social & Multimedia Integration
•     Hosting Infrastructure Setup
•     Maintenance & On-going Support
•     Security Assurance
•     Monitoring