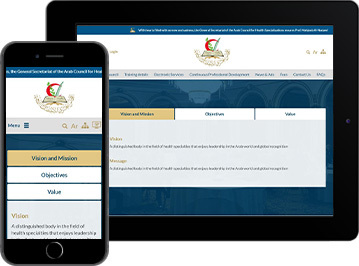 The Arab Board of Health specialization was established in 1978 according to the decision of the Arab Health Ministers Council which is subordinate to the Arab League. It aims to improve health services in the Arab world by raising the scientific and practical level in various specialties.
The Arab Board of health specialization is responsible for establishing a certification procedure for each medical specialty, organizing teaching and training sessions for the resident physicians in coordinating with teaching institutions in the Arab World, as well as promoting the acquisition of continuous medical education and expertise.
Website will be launched soon.....
What We Did 
Complete Chain initiated The Arab Board of health specialization project by assessing their business needs, identifying the solution, and developing a goal-oriented plan. The site value along with multiple resources was analyzed and restructured to architect a new website management system and portal with prominent user-experience.
The new website management system layout and information architecture were constructed from the research to clearly organize the information to its various targeted audiences. 
The aim of the website is to create interaction between users and content, allows them to have a personalized experience, goes beyond the usual browsing and viewing, thus helps them gain trust with their consumer. 
Services Implemented for the website
We accomplished the following services:
•     Research & Analysis
•     Content Support & Strategy
•     Visual Web & Responsive Design
•     Search Engine Optimization (SEO)
•     Web Design Extension & Guideline
•     Social & Multimedia Integration
•     Hosting Infrastructure Setup
•     Maintenance & On-going Support
•     Security Assurance
•     Monitoring