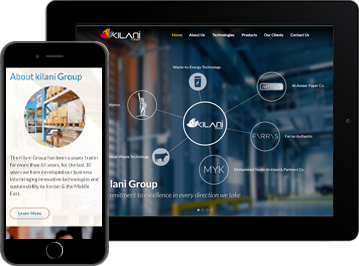 Al Kilani Group founded in 1952 as an individual company, after that it becomes a solidarity company in 1977, and developed to be a limited liability company In 2002.
Kilani Group is responsible for more than 50% of the paper imported to Jordan and exports huge quantities of paper and cardboard to Turkey, Lebanon, Syria, Iraq.
Al Kilani customers rely on them with their urgent requests, therefore they provide 24/7 nonstop availability and supply of versatile, high-quality wide range products of paper and cardboard stored in a highly equipped warehouses.
Website: https://www.kilanigroup.com
 
What We Did
Complete Chain initiated the project with Al Kilani Group by assessing their business needs, determining the solution and developing a plan to target the goals. The site value along with multiple resources was analyzed and restructured to architect a new site with prominent user-experience.
Complete Chain and Al Kilani determined a framework in which the needs of each audience member type was met along with the needs of the Al Kilani team. From the research, a new website layout and information architecture were built to clearly organize the agency's information to its various targeted audiences. The new architecture was also tailored to attract individuals and clientele to increase conversion rates. The development team built a fully scalable site with SEO enhancements to increase search indexing and visibility to search engines.
Services Implemented for Al Kilani 
We accomplished the following services for Al Kilani:
Research & Analysis
 Content Support & Strategy
 Visual Web & Responsive Design
 Search Engine Optimization (SEO)
 Web Design Extension & Guideline
 Social & Multimedia Integration
 Hosting Infrastructure Setup
 Maintenance & On-going Support
 Security Assurance
Monitoring