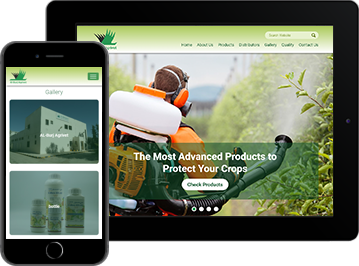 Al-Burj Agrivet is a Jordanian-Spanish Pesticide Manufacturing company, established in 2004 and located in Sahab Industrial Area.
Al-Burj Agrivet carries out market surveys to find out customers' needs that allow them to take necessary steps, so they can develop and register those new products that will meet such demand. They believe in manufacturing products of highest quality, using the finest raw materials only.
Website: https://www.alburjagrivet.com/
What We Did
Complete Chain was selected as a long-standing company in web development solutions to analyze and serve the center's expectations.
Complete Chain and Al Burj determined a framework in which the needs of each audience member type were met along with the needs of the Al Burj team. From the research, a new website layout and information architecture were built to clearly organize the agency's information to its various targeted audiences. The new architecture was also tailored to attract individuals and clientele to increase conversion rates. The development team built a fully scalable site with SEO enhancements to increase search indexing and visibility to search engines.
Services Implemented for the website
We accomplished the following services:
•     Research & Analysis
•     Content Support & Strategy
•     Visual Web & Responsive Design
•     Search Engine Optimization (SEO)
•     Web Design Extension & Guideline
•     Social & Multimedia Integration
•     Hosting Infrastructure Setup
•     Maintenance & On-going Support
•     Security Assurance
•     Monitoring