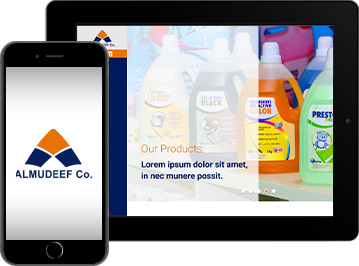 Al-Mudeef General Trading Company is a well-standing company in the field of trading and distribution of detergent, foodstuffs, household materials, and works according to the highest level of international standards.
It was formed in 2000 while it ranks the highest in the detergent distribution today under the names "Oro Plus" and "Butterfly", in terms of quality, cost, and material in Iraq.
Website:
https://www.almudef.com/  
What We Did
Complete Chain initiated  Al-Mudeef project by identifying their business needs, determining the solution and developing a goal-oriented plan. The site value was analyzed and restructured along with various resources to develop a new website with prominent user-experience. The new website layout and information architecture were constructed based on our research to clearly organize the company's information to its various targeted audiences. The development team built a fully scalable site with SEO enhancements to increase search indexing and visibility to search engines.
Services Implemented for Al-Mudeef
We accomplished the following services for Al-Mudeef:
•     Research & Analysis
•     Content Support & Strategy
•     Visual Web & Responsive Design
•     Search Engine Optimization (SEO)
•     Web Design Extension & Guideline
•     Social & Multimedia Integration
•     Hosting Infrastructure Setup
•     Maintenance & On-going Support
•     Security Assurance
•     Monitoring