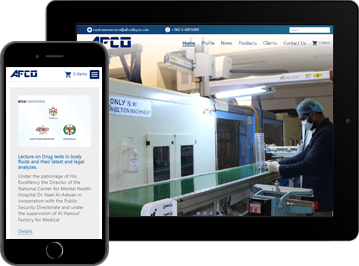 AL-Hanoof Factory for Medical & Lab Supplies is a Jordanian private holding company established in 2006, specialized in manufacturing & supplying of single-use medical devices & lab disposable under standard methods to meet the needs of laboratories.
Website: https://www.afcodispo.com/  
What We Did
Complete Chain implemented AFCO project by identifying their business needs, determining the solution, and developing a goal-oriented plan. 
The site value was assessed and restructured along with various tools to develop a modern website with a notable user-experience.
The new website layout and information architecture were built from the research to arrange the company's information towards its diverse targeted audience. Our unique development team developed a completely functional site with SEO modifications to improve website visibility in search engine page rankings.
 
 Services Implemented for the website
We accomplished the following services:
•     Research & Analysis
•     Content Support & Strategy
•     Visual Web & Responsive Design
•     Search Engine Optimization (SEO)
•     Web Design Extension & Guideline
•     Social & Multimedia Integration
•     Hosting Infrastructure Setup
•     Maintenance & On-going Support
•     Security Assurance
•     Monitoring